The staff of the holding company was informed by the employer about preventive measures against coronavirus infection, and they consciously, leaving home, observe all safety precautions. The employer follows all the necessary safety measures as well.
At the entrance to the corporation bus, disinfectant is placed, with which the company staff under the control of the driver handle their hands during boarding the bus.
At the checkpoint, everyone disinfect their hands once again under the supervision of a guard.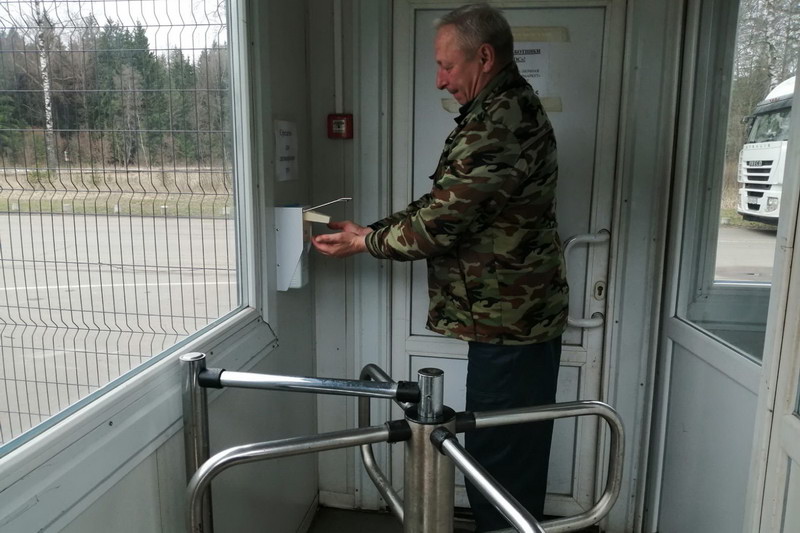 Every morning, a medical worker who examines the workers before the start of the shift meets the company's employees. Employees with the sympthoms of ARVI are not allowed to work and sent to the clinic in the community for further diagnosis.
Responsible persons conduct explanatory discussions on the prevention of flu and coronavirus infection.
The company has taken measures to strengthen personal hygiene control - respiratory masks and sanitizers have been handed out to employees, additional dispensers with an antiseptic have been installed in places of eating and other public places.
Specialists, who always work in the office, use disinfectants, ventilate the rooms at least once an hour. Employees of the holding are provided with drinking water and disposable utensils, the use of common utensils is excluded.
For drivers of third-party organizations and workers of contracting organizations, places for processing hands with disinfectants have been equipped and medical dispensing masks have been provided as well.
Employees of Protos Auto LLC, who arrived from international drive, are sent to 14-day home quarantine, and vehicles are washed with disinfectants.
In addition to usual cleaning, the office daily carries out additional cleaning and disinfection of all contact surfaces (tables, door handles, electronics - a monitor, keyboard, mouse, computer, smartphone, and remote control). Cleaning and disinfection of the interior of the corporation bus and the salons of corporation cars.
All business trips in the company are minimized, meetings are minimized as well or are held via audio and video communications, participation in international exhibitions and conferences is canceled, probably until the autumn; drawing up orders with courier service is excluded.
The company does not need to transfer ALL office staff to distance work, but some of them are already working at home.
We wish good health to all employees, partners and their families!